Christmas On A Budget in Sun Valley
December 12, 2014
Let It Snow
December 16, 2014
Coulter Properties is continuously coming up with new ways to market and remain on top. Our newest idea … bus advertisements.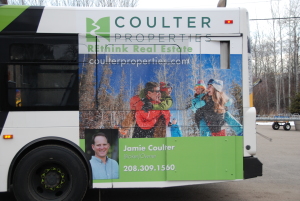 We are super excited to be on the move. Our mobile bus advertisement is sure to be an eye catcher for both sellers and buyers in real estate.
You can check it out for yourself on Bus #1 of the Mountain Rides Blue Route, carrying passengers between Elkhorn Springs and Warm Springs or inside 12 different buses around the Wood River Valley.
Let us know what you think!