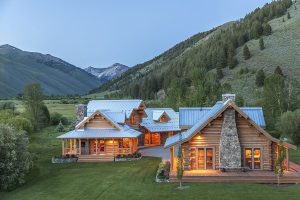 Blaine County in Central Idaho is one of the best kept secrets in vacation real estate in the world. Silicon Valley, Wall Street, and Hollywood elite all flock to Blaine County winter homes when it comes time for a break from the stresses of big city life. Sun Valley and Ketchum offer some of the most beautiful and famous ski resorts and golf courses in the country. Real Estate prices in the Blaine County tend to vary by region with homes down in Hailey or Bellevue for reasonable $300-400,000 ranges while Ketchum and Sun Valley offer vacation homes and condos for upwards of $3 million. Private residences at the southern tip of the Sawtooth National Forest attract vacationers of the highest caliber and investors who know their vacation properties will remain filled year round between the skiiing, hiking, fishing, and golfing in the area available for any season. Blaine County offers real estate for every kind of home buyers with unique and beautiful mountain views from every city.
Sun Valley Real Estate
Sun Valley Idaho is an historically famous vacation home destination. From the world renowned skiing at Bald Mountain and Dollar Mountain to the serene privacy of the hills between Sun Valley and neighboring Ketchum, Sun Valley has long been a private name passed among Hollywood, Wall Street, and Silicon Valley VIP tables as the best real estate in the world. Since the arrival of Ernest Hemingway in the 1930s, fame and fortune have flocked to Sun Valley as a beautiful mountain getaway. To meet the requirements of such an elite crowd, vacation homes in Sun Valley and Ketchum are as extravagant and peaceful as the communities in which they reside. During summer and winter alike, families in-the-know venture to Sun Valley to carve slopes with the stars and backpack with executives through the Wood River Valley mountains. Real estate in Sun Valley can be hard to come by as local authorities keep development slow to protect the natural beauty of the place and vacation properties are passed through generations of famed estates. Knowing the right realtor in town is more valuable than knowing the best Asian Fusion restaurant around (Rickshaw) and much more valuable if you are looking for investment property. I have been selling homes in Sun Valley for 25 years and I can help you find anything that you're looking for in the local housing market. Where other realtors in the area simply read MLS reports and hope to find a house that fits some of your wants, I know the community well enough to make sure  you never 'settle' when you deserve exactly the home of your dreams.
Ketchum Homes and Condos
Few places in the world offer luxurious real estate, outdoor lifestyle, discrete fame and breathtaking views quite like Ketchum Idaho. A popular getaway for celebrities looking to escape the limelight and reconnect with rolling alpine mountainscapes, Ketchum offers residents privacy and peace unlike any other mountain town. Just outside of Sun Valley County, Ketchum provides a comfortable distance from the bustling tourism in up the mountain in mid-state Idaho's famed ski resorts. For those newcomers moving to Ketchum in search of some neighborhood connection, the community has a rich arts culture with annual outdoor sculpture festivals, museums and beautifully kept parks. The average home price in Ketchum is around $1.7 million making it an ideal location for a summer getaway home or investment retirement property. Despite the luxury home prices, the cost of living in spacious Ketchum is low for those homeowners used to crammed city living situations. Ketchum has so much to offer as an escape from the urban grind in the relaxing and exciting quintessential great American outdoors. Investors from all around realize that Ketchum real estate is a goldmine between everyday vacation goers and VIP escapists looking for the pefect summer or winter home. Properties in the region have been increasing in value over the last few years as word about Ketchum homes have started to spread. Some of the best mountain resorts in the country rest right alonside vacation homes comparable to the lodges in size and grandeur.
Bellevue Homes
A half hour drive south down highway 75 from the mountain resorts in Sun Valley and Ketchum rests the quiet, luxurious small town of Bellevue. Average homes sell for around 750,000 but there are a number of condos and REO homes for residents looking to save on closing costs. Just over 2000 people call Bellevue home but the community is largely comprised of vacation homes that are filled during ski season and summer mountain escapes. Out of the way of the tourist atmosphere up north, Bellevue offers more seclusion and privacy at 5000 feet. As with many vacation destinations, the Bellevue housing market tends to favor the cash buyer or the real estate investor as sales and relative prices fluctuate with the seasons. Bellevue features a picturesque downtown district along the Big Wood River and several historical homes and monuments including the Henry Miller house and the Bellevue Historic district.
Much of the real estate for sale in Bellevue is undeveloped land allowing prospective residents to build a custom home to fit any need. Many property owners in Bellevue leave land undeveloped allowing the land value to continue to appreciate as the resort communities up north continue to develop and grow. The available land is more of a high desert climate than the strictly alpine feel of Sun Valley. Accordingly, the warmer climate tends to attract more permanent home owners than the vacationers in some surrounding areas. For those families looking for vacation properties, Bellevue has plenty of options for them as well with dozens of luxury cabin style homes north starting at $900,000.
Hailey Real Estate
Homes in Hailey Idaho tend to favor the single families and first time home buyers that are looking for affordable real estate in a beautiful location. Colloquially called the "Town in the Mountains" Hailey is just north of Bellevue, Hailey is surrounded by some of the best schools in the district and is prime location for new families looking to live in a some of the most sought after real estate in the country. The entire Wood River Valley is dotted with communities of homes that provide peace and quiet away from busy city life while still having all the amenities a family could want. Famous as a vacation destination, the Sun Valley area draws a sizable crowd during peak golf and ski seasons but Hailey remains a welcoming mountain town year round for its predominant full-time resident population. Homes in Hailey tend to me more affordable than the vacation real estate in some of the resorts with properties in Hailey starting around $175,000 and range up to $750,000 in some of the more desirable East Fork neighborhoods.
Home Prices in Hailey ID
The last four years have been good for sellers in the Hailey region as home prices shot up but today as more and more homes come to the market, buyers and sellers are finding a happy medium. The region as a whole is seeing an increase in property prices as national real estate price trends go up but many residential homes selling in Hailey are outpacing national growth. For those vacation home seekers that are looking for even more of an escape than Sun Valley and Ketchum, Hailey does offer several vacation homes along the Southern corner of Ketchum. Whether you are looking for a starter home in a quiet Hailey neighborhood or a more luxurious property on the north side of town for investment or vacation, I can help you find anything you are looking or in Blaine County. I have been selling real estate in the area for over 25 years and I am dedicated to providing you expert service buying or selling your Hailey Idaho home.
Blaine County has so much variety to offer and I am excited to help you find your place on one of the most scenic mountain destinations in the world. Contact me today at (208)309-1560 or email me at jamie@sunvalleylife.com