NEW LISTING!! 206 Bannock Dr., Hailey
November 18, 2014
NEW LISTING!! 106 Village Way #16
November 25, 2014
List Your Home Online
The internet has changed the way the world has looked at many things, even real estate. Here are 5 reasons to list your home online.
1. With 92% of buyers using the internet to help search for a new home, an increase of 253% in the last four years.
2. Increasing numbers show that adults using a mobile device will make a home purchase. 70% of mobile users turn into leads with 22% of those users making a commitment to purchase a home that they found on a mobile site.
3. Social Media … your buyers are watching how you market a home!
4. Online appeal. Professional photography is likely to get your listing noticed by an additional 13%. Videos can increase that another 6%.
5. Let's look at the numbers: 63% of buyers view a home they saw online. 43% buy a home they first saw online. 75% of buyers schedule a viewing after checking out a listing online.
How can we help? Coulter Properties is using cutting-edge technology to market homes in Sun Valley.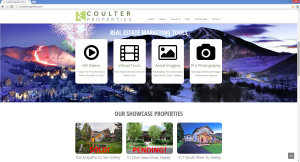 1. Virtual Tours: Online open house! No more hassle of scheduling buyer showings and open houses.
2. HD Videos: Guaranteed to make your listing shine! Your home will be available for viewing 24/7 through mobile, ipad, and other devices.
3. Professional Photography: Photos are worth a thousand words.
4. Aerial Photography: Capture the beauty of your listing from the sky. We will showcase your property in ways never seen before.
Jamie Coulter will bring out all the stops for your listing. Call him today for a home valuation. 208-309-1560